WhatsApp is one of the popular messaging applications worldwide communication was just introduced to business customers with a few fantastic changes. 
This new change for WhatsApp is WhatsApp CRM, which allows you to store your complete contact list in this app, and it helps you produce some other exciting features such as a daily digest and on-demand read receipts.
This article will show you how to manage the business on WhatsApp and how it works!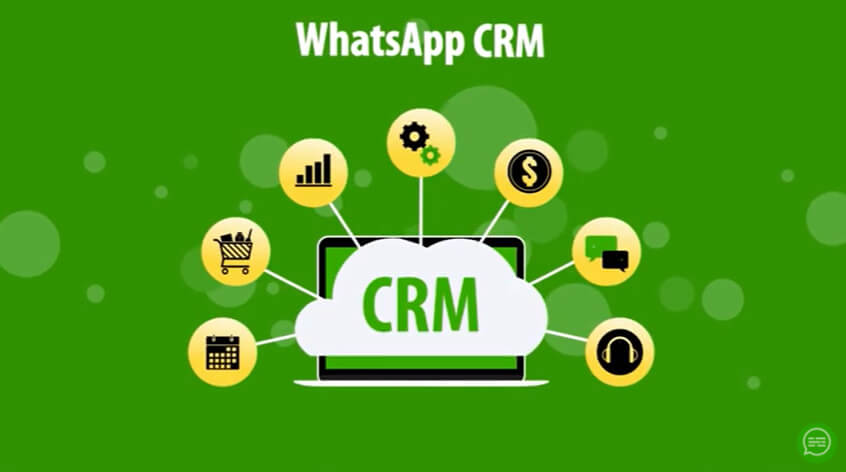 WhatsApp CRM is software that allows you to manage your business effectively through your WhatsApp account. It provides you with all the tools and features required to handle the company and create a successful marketing campaign. 
The WhatsApp CRM tool helps you track your leads, convert them into customers, and manage their accounts. 
WhatsApp currently sends 100 billion messages per day. So, you can also send them messages at different stages of the sales funnel. 
Like when they are about to purchase, when they have purchased, or even after they have purchased, to ensure that there are no issues with their product or service.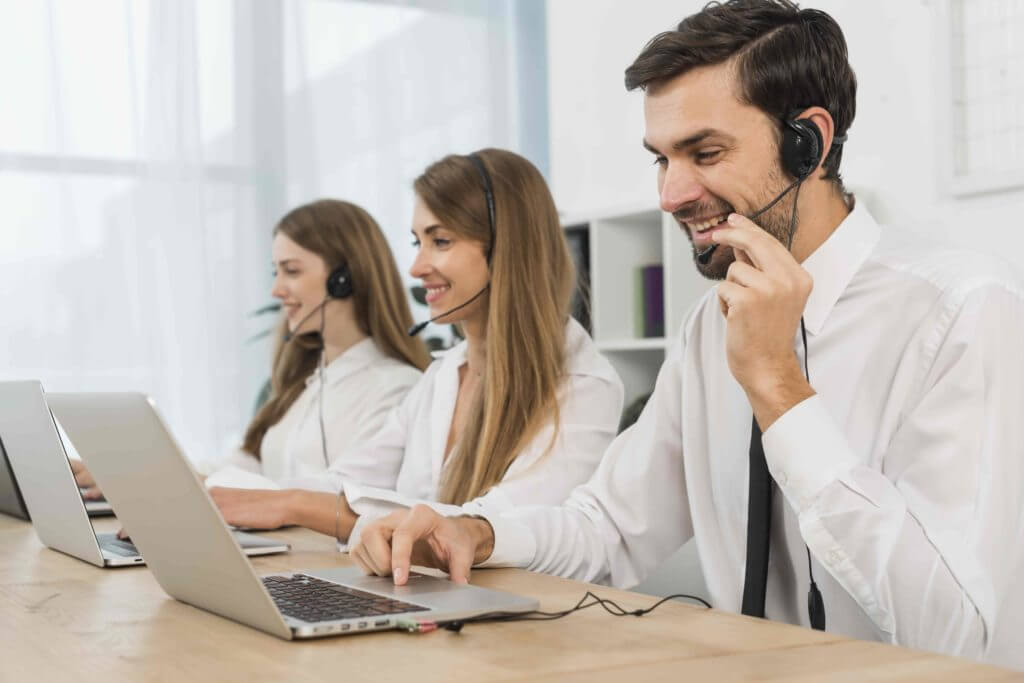 The WhatsApp CRM is an excellent tool for managing your customer relationship. The CRM for WhatsApp is a perfect tool for managing your customer relationship. It's easy to use and a free online business app!
63% of respondents said they preferred companies that offered text messaging as a communication channel. Here are some tips to help you get started with the WhatsApp CRM tool:
    • Create a separate WhatsApp account for your business, and don't use it for personal messages.
    • Create a contact list with all the information about each person you want to reach (name, phone number, email address, etc.).
    • Create groups for different categories of contacts (e.g., customers, prospects, partners).
    • Send messages to the people in each group whenever it's relevant or necessary (e.g., send an email newsletter to all subscribers once per month).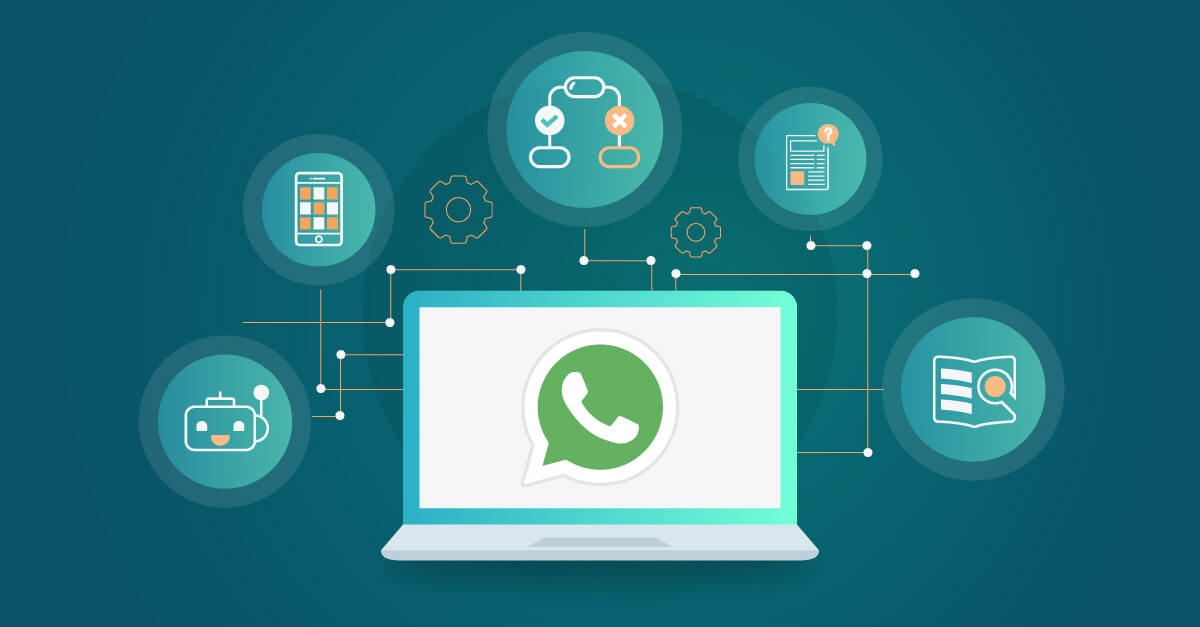 The WhatsApp CRM integration is a powerful tool that will help you gain more customers and improve your business processes. 
With this integration, you can send personalized messages to your leads, customers, and fans. You can also schedule your messages in advance to send them automatically.
You can use this feature to create automated sales campaigns and these tools to boost your business ROI of your marketing budget. The following are some of how this feature can benefit your business:
With the WhatsApp CRM tool integration, you can send customized messages to each person who interacts with your business on WhatsApp. 
Personalized messages have a higher chance of being read by people than generic ones because they are relevant. It increases their chances of engaging with your brand and taking action on what you're promoting.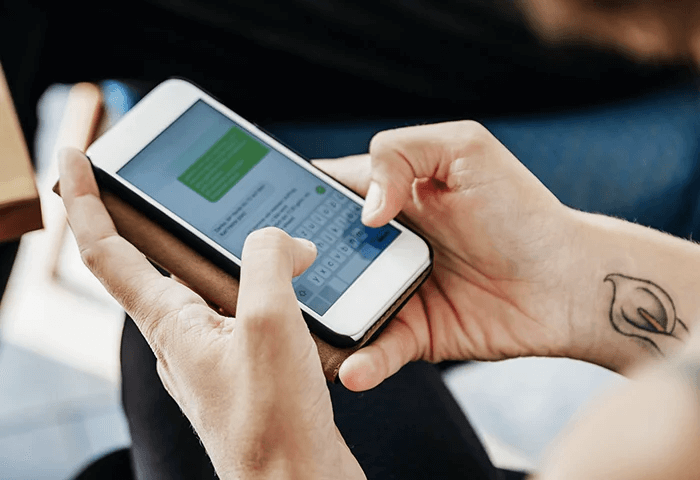 You can schedule messages in advance to send them out automatically at specific times and dates. It saves you time and effort when sending automated messages to leads, customers, or potential clients. 
You can also schedule these messages based on the activities performed by leads (for example, if someone downloads an ebook, then send them another message).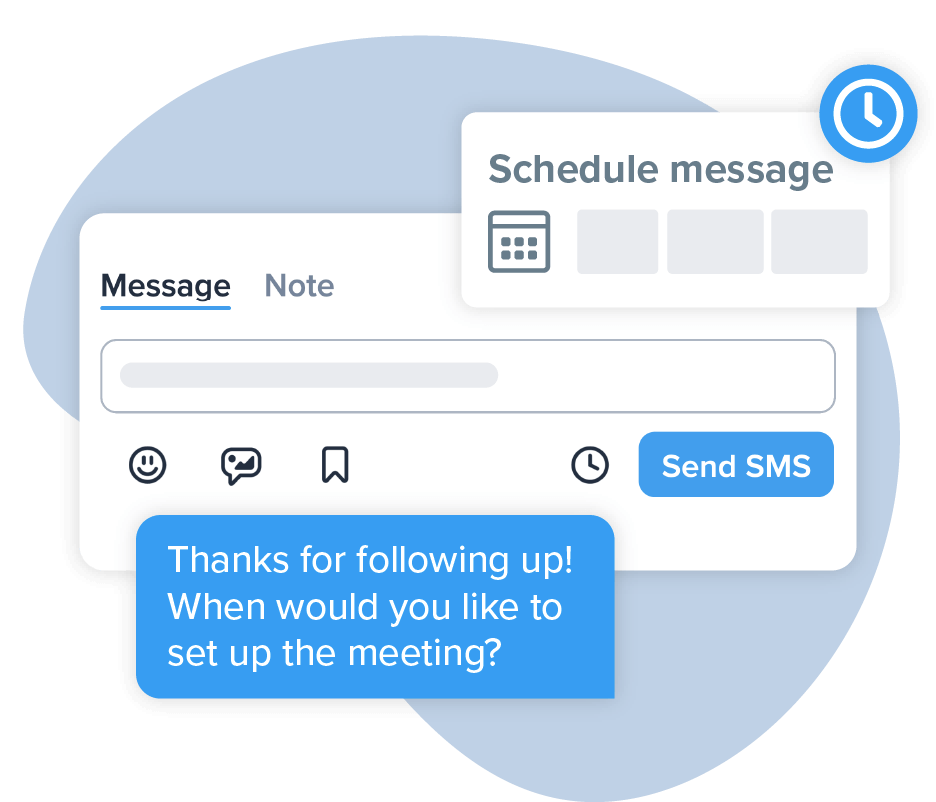 You can send automated messages based on a customer's activity to increase engagement. 
For example, someone hasn't purchased anything from you in a while or hasn't responded to an email. In that case, you can send an automated message asking if you need any help finding something else or if there's anything else looking for. 
It will encourage them to reply to your message to get their questions answered or solve their problem.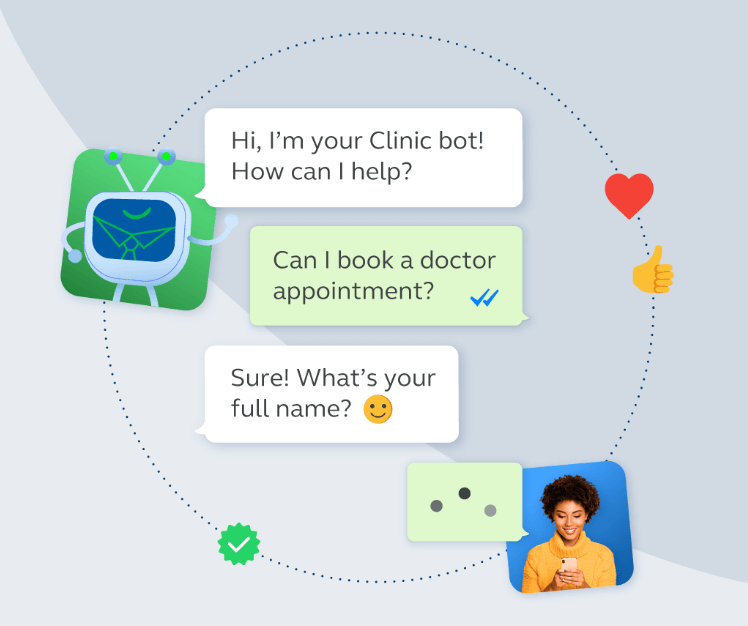 In the connected world, it's crucial to stay in touch with customers who have purchased from you in the past. It is especially true if they have expressed interest in future purchases. 
You can use the WhatsApp CRM tool to reach out to these customers and remind them about your brand and products.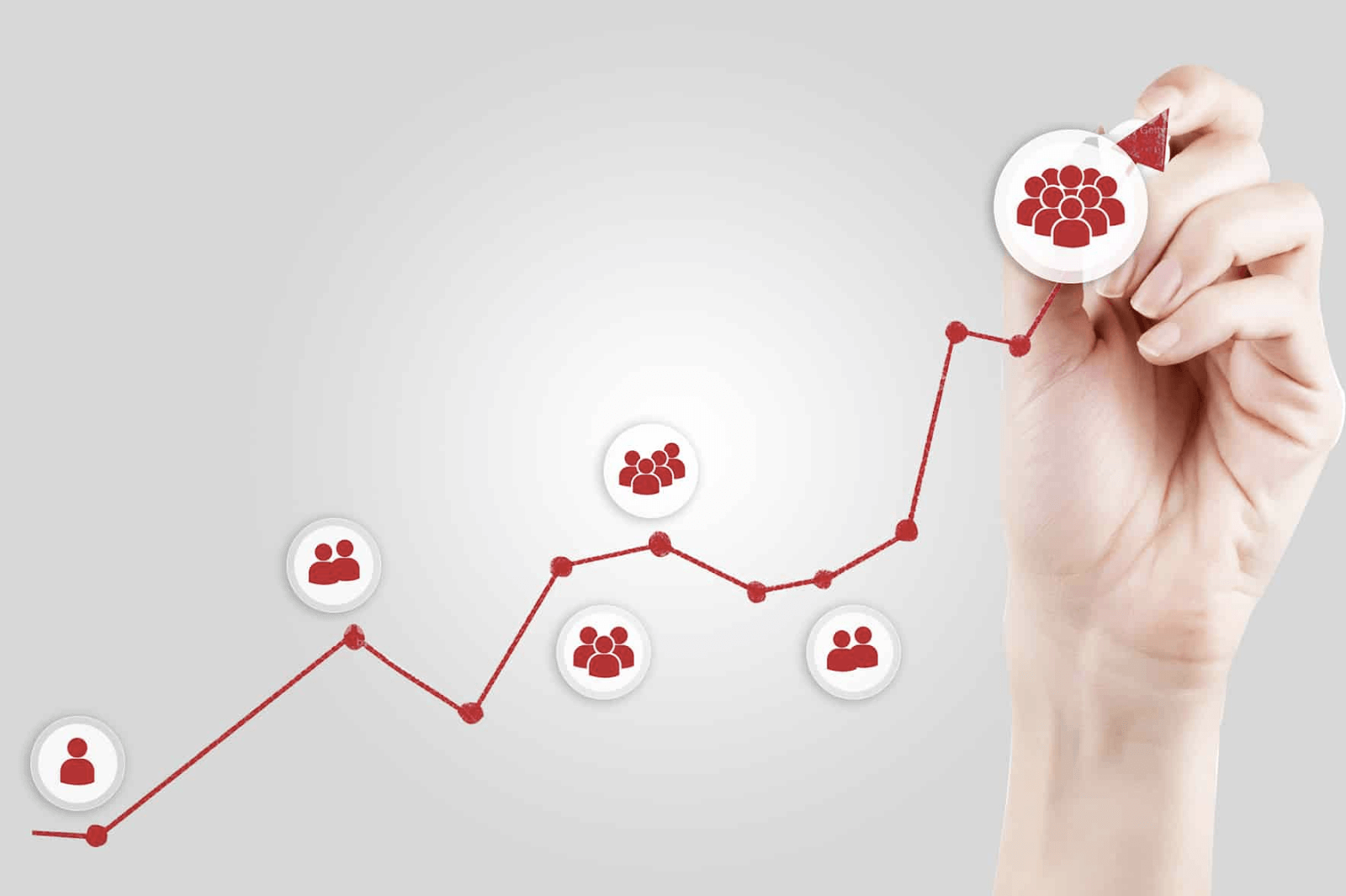 Ask questions through WhatsApp and get responses that can help improve your business strategy. For example, if a customer complains about a particular product feature or service, you can use this information to make improvements as soon as possible.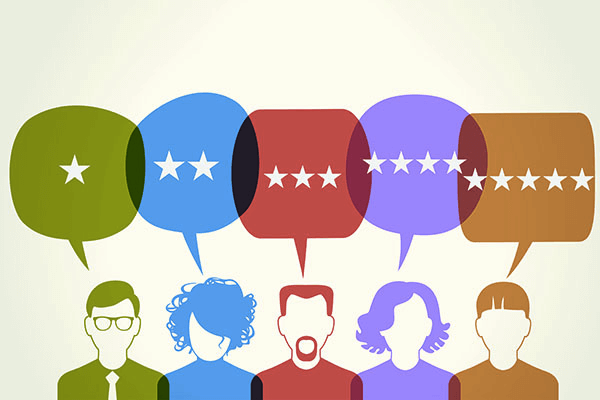 Grow your sales by creating new relationships with potential customers who might not know about your brand yet. You can send links to social media profiles or websites where interested prospects can learn more about what you offer. 
Now, they can engage further with your brand through social media channels like Facebook Messenger for Business or Instagram Direct Messages for Business (these are just two examples).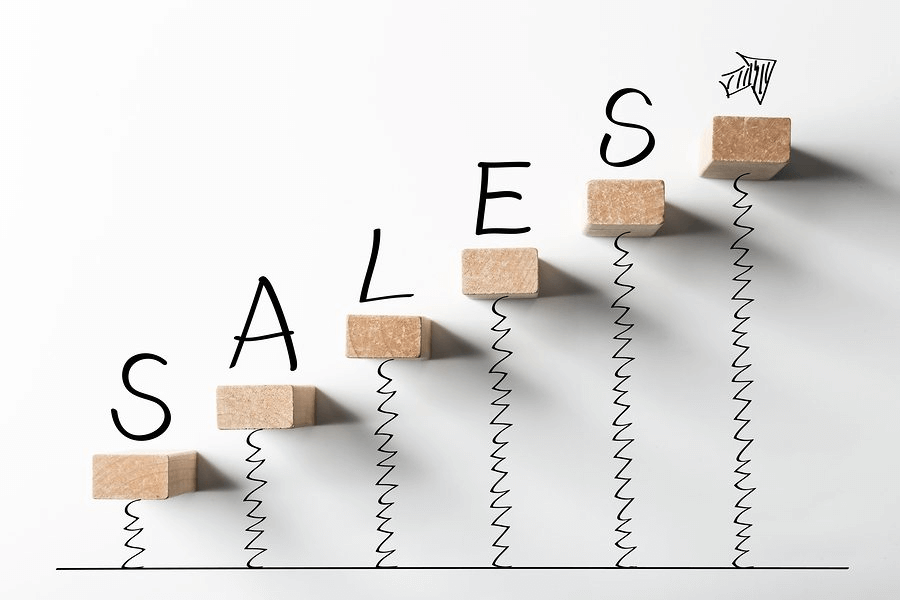 The most significant benefit of integrating your WhatsApp account with a CRM system is that it lets you reach out to people who have already interacted with your brand somehow. 
It could be through our website or social media pages, but it could also be from an email list or other forms of communication such as phone calls or text messages.

Marketing is an expensive affair, especially when done manually. But by using automated engagement strategies, you can significantly reduce the cost per lead and increase the ROI on your marketing campaigns. 
For example, sending a personalized message to each new subscriber every week on WhatsApp would translate into tens of thousands of dollars of savings compared to traditional marketing methods such as email campaigns or SMS blasts.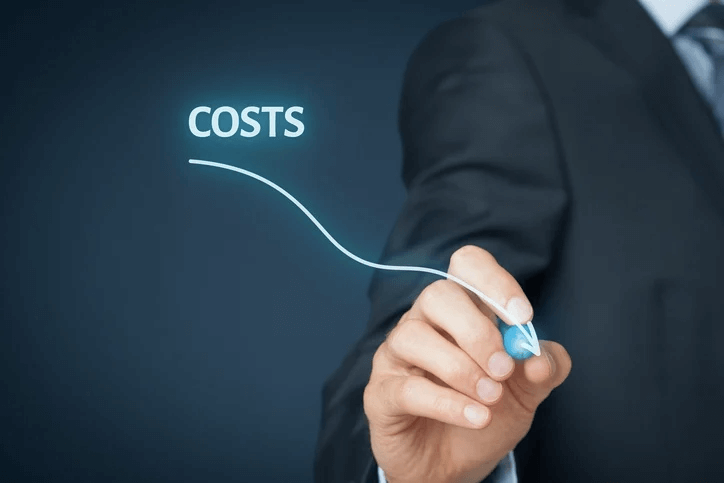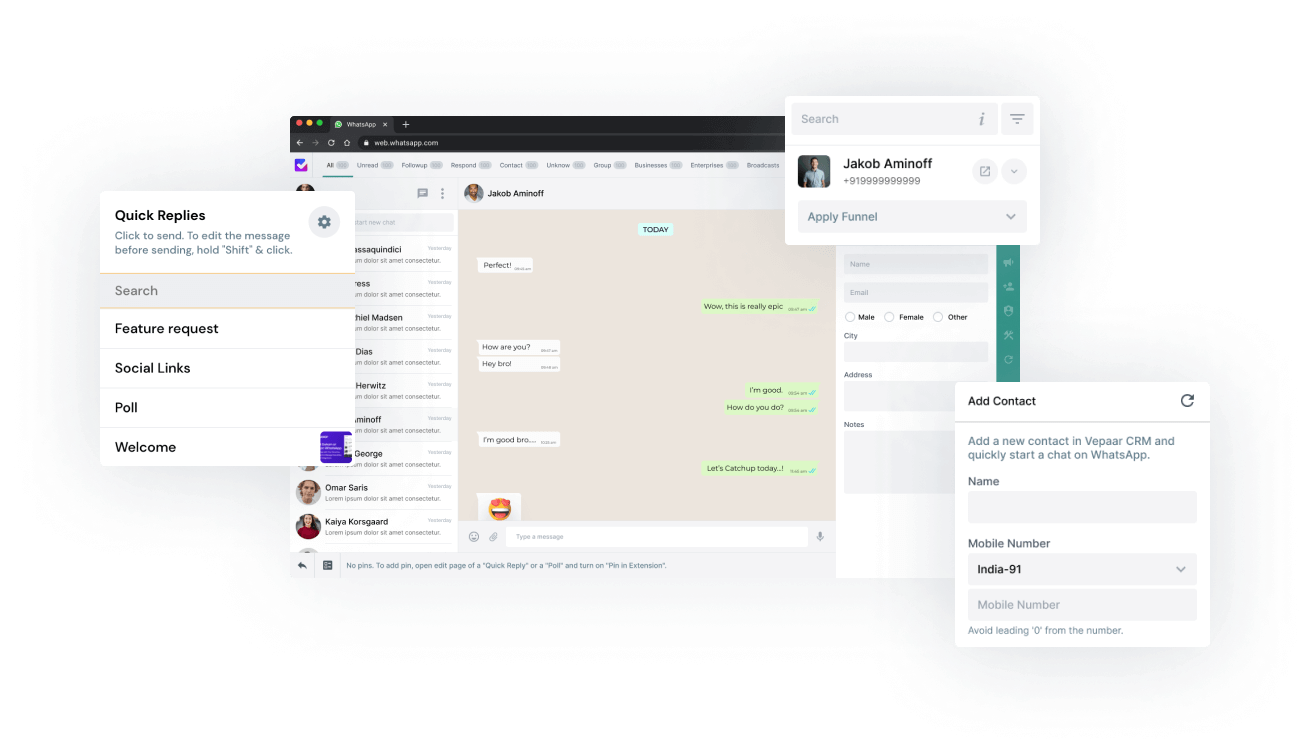 Vepaar is a Chrome Extension and Android/iOS app that extends the functionality of the official WhatsApp Web app. It wraps the WhatsApp Web app into a container that makes it possible to perform all the mobile app functions within the extension.
Vepaar uses the Official WhatsApp APIs to provide a seamless experience and excellent features to get the most out of your WhatsApp. Moreover, Vepaar won't change or delete any data on your phone.
Quick Replies
Tags to User/Media/Messages
Save WhatsApp Chats 
Save Media Files [Image, Video, Audio] 
Export Contacts of WhatsApp, Groups, and Broadcast Lists to Excel
User/Customer Profile with Overview, Conversations, and Media 
Send a message to the number without saving on mobile 
Sales Funnel 
Auto Sync Chat
Personalized Quick Replies
eCommerce Store
Create your Business Page
Polls 
Powerful Cloud-based Admin Panel
WhatsApp CRM can keep track of your potential clients, customers, and leads. You can always remind them about the critical issues, so they should never forget your services and products. 
You need to know who your clients are, what they need and when they need it, how long you have to keep that information in mind, and many others.