Nowadays, WhatsApp has become a go-to communication tool for businesses, both large and small. It's widely used for sales conversations and customer service engagements.
Tracking WhatsApp conversations is crucial for businesses, as these conversations are essential to the buyer's journey and customer experience. Without tracking, businesses cannot leverage them effectively or identify areas for improvement.
Integrating WhatsApp with HubSpot CRM allows businesses to record and track all WhatsApp conversations, providing valuable insights to drive informed business decisions.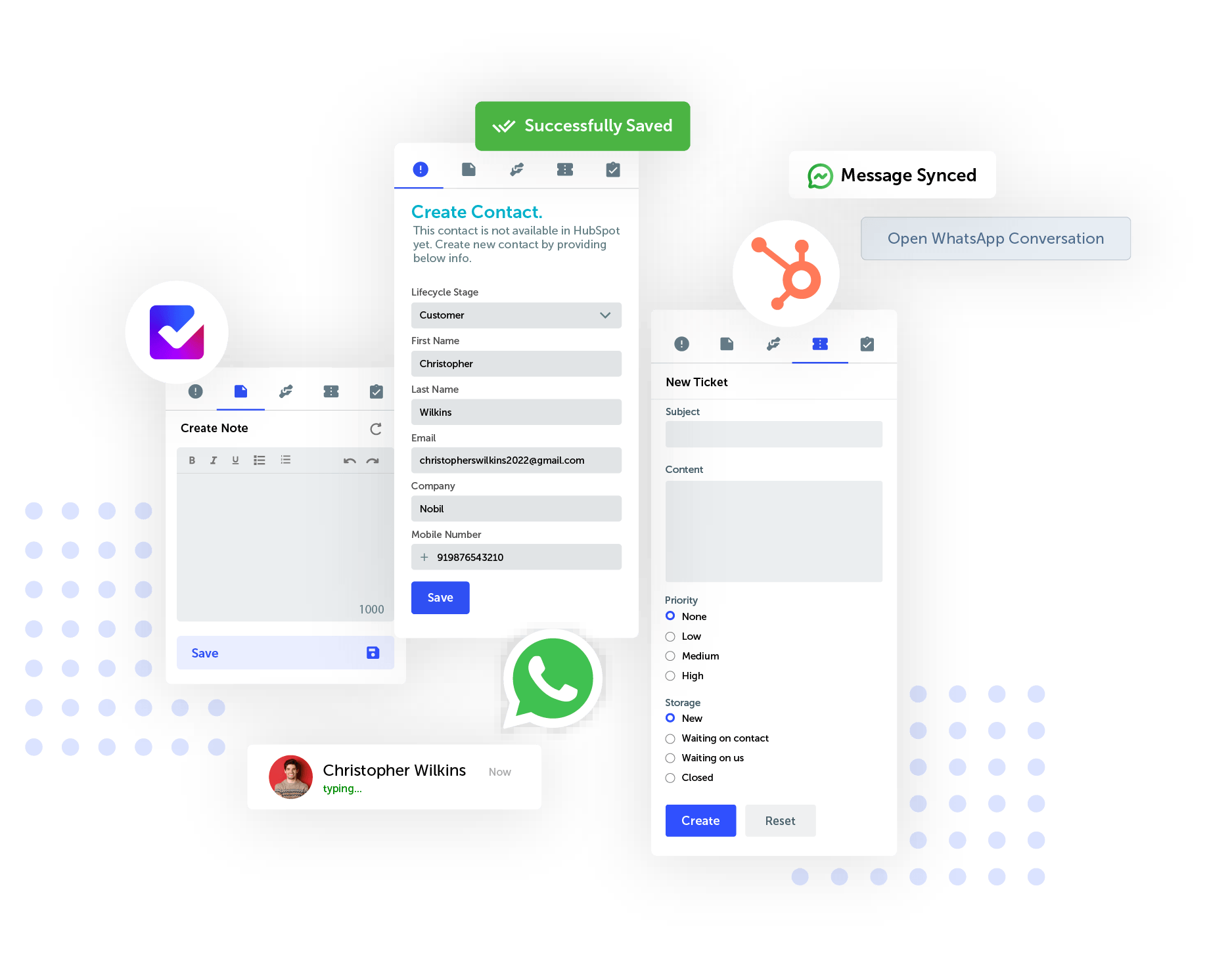 Effortlessly streamline your sales process with Vepaar's innovative HubSpot WhatsApp integration. With this powerful tool, you can access all the features of HubSpot CRM without ever leaving the WhatsApp web interface, making it easier than ever to manage your customer interactions and close more deals.
By using Vepaar's HubSpot WhatsApp integration, businesses can benefit from increased visibility into customer interactions, enhanced lead tracking and scoring, and improved overall efficiency and effectiveness.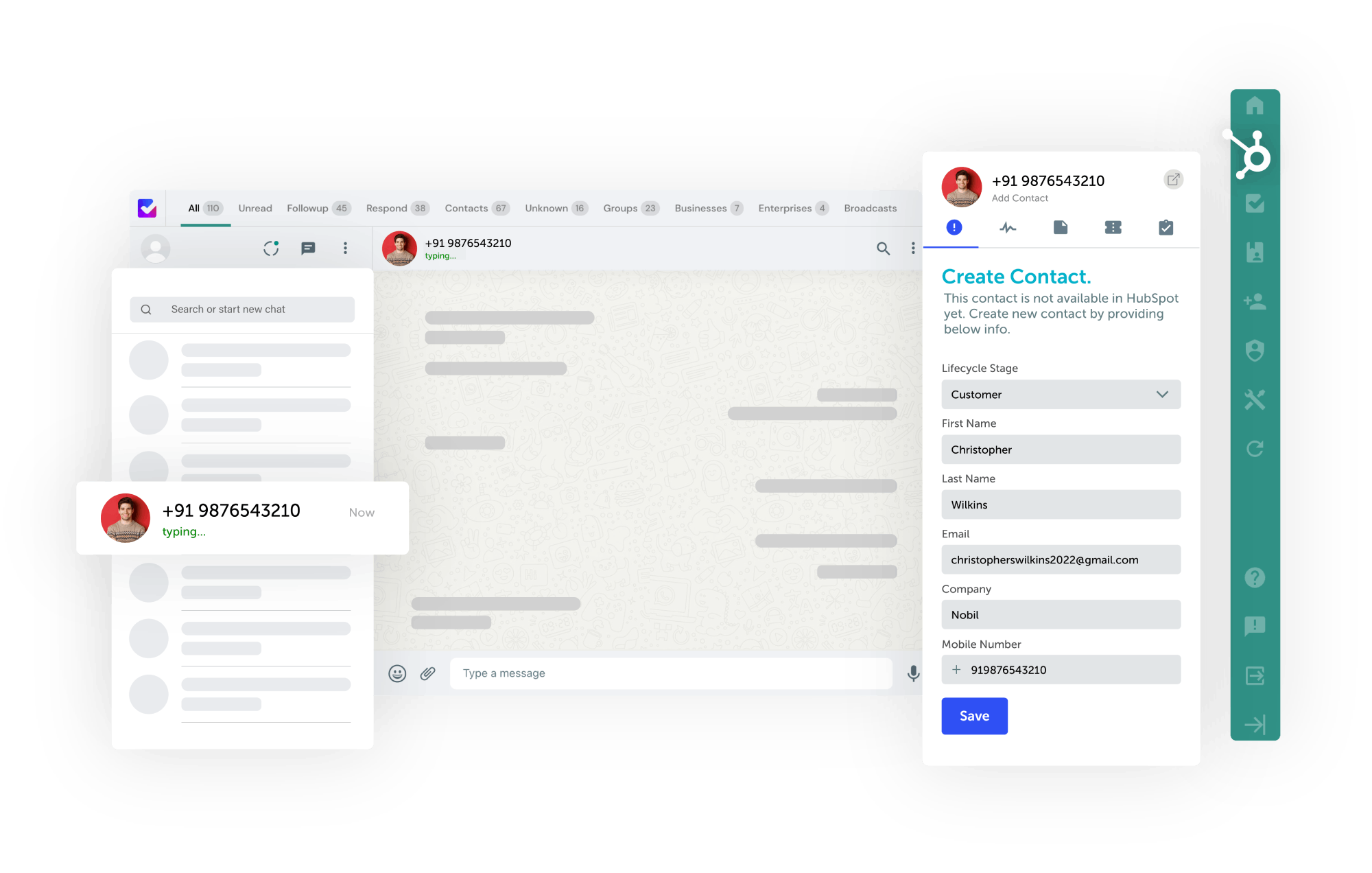 With Vepaar's HubSpot WhatsApp integration, businesses can rest assured that no important contacts or opportunities will slip through the cracks. The integration enables businesses to easily create and update HubSpot contacts right within the WhatsApp interface, allowing for seamless communication and data management. This means that your team can spend more time engaging with prospects and customers, and less time manually updating contact lists and customer data in different systems. You can add Notes directly from WhatsApp.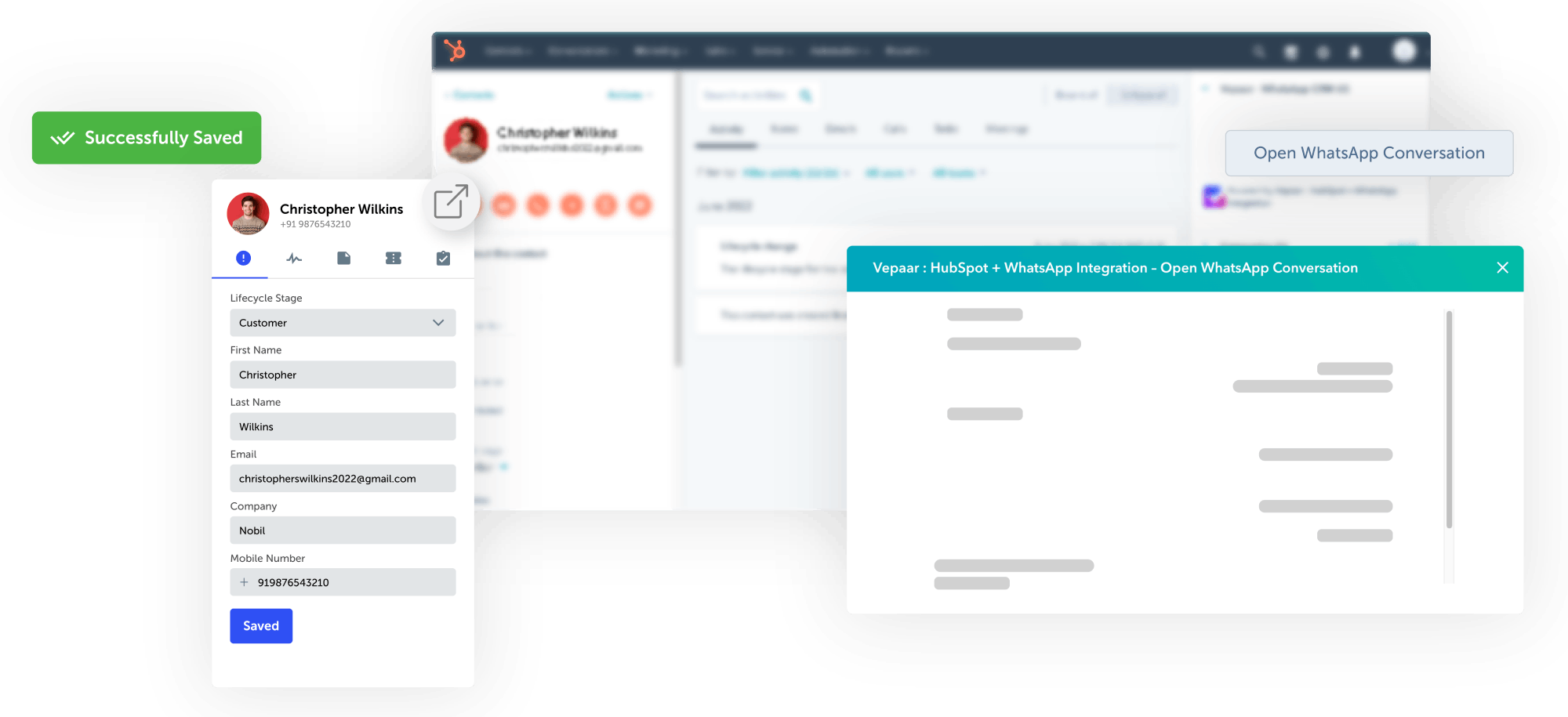 HubSpot + WhatsApp integration solution can automatically sync all of your customer's WhatsApp conversations to your HubSpot database for future reference. This means you can easily access and track all customer communication in one place, allowing you to gain valuable insights and improve your overall customer experience.
No more manually copying and pasting WhatsApp conversations to HubSpot, with Vepaar, the integration process is seamless and automatic, saving you time and effort. Plus, with your customer data and communication history centralized in HubSpot, you can easily segment your audience and create targeted marketing campaigns for maximum impact.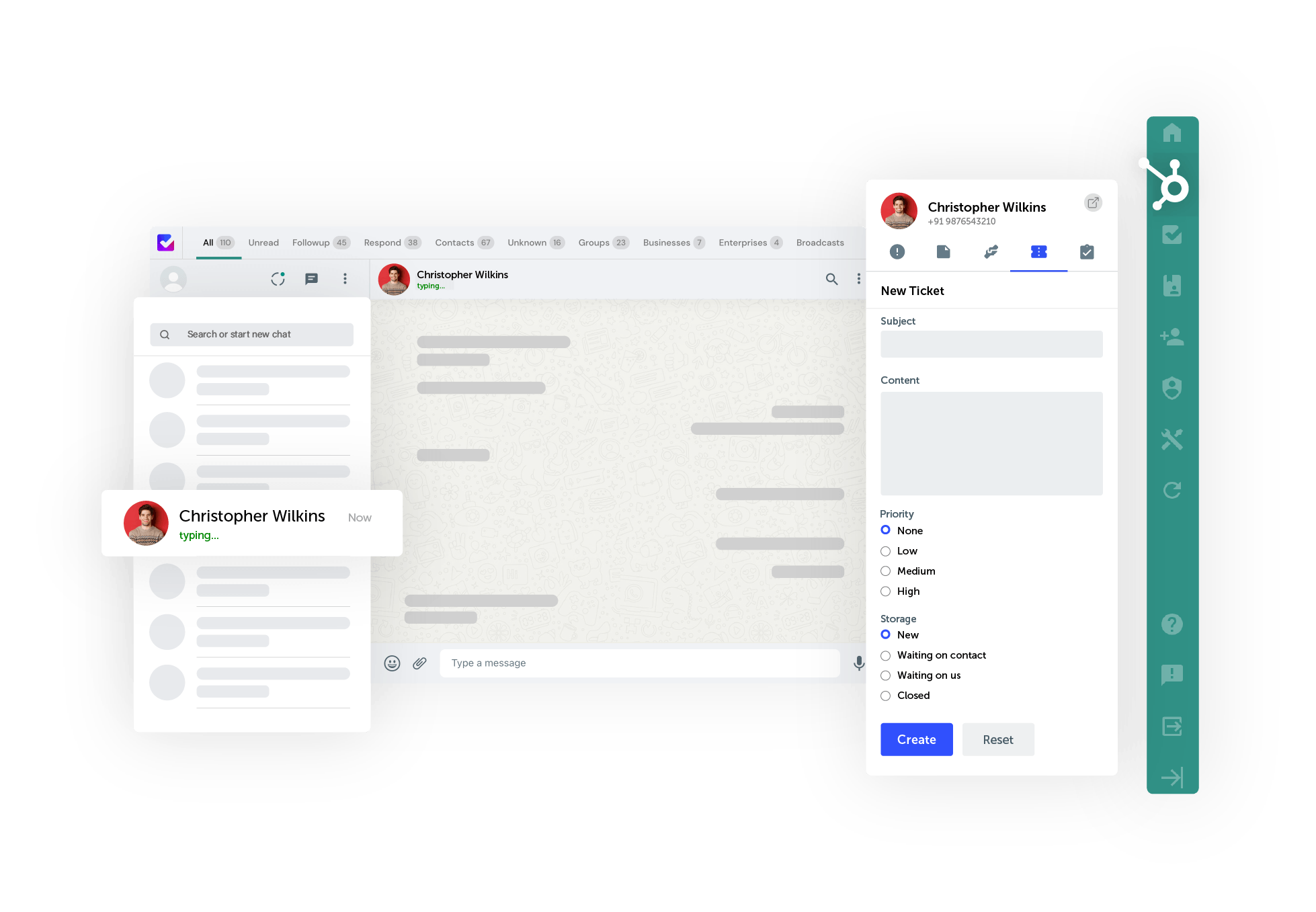 You can manage all of your customer queries by tracking HubSpot tickets right where the conversation happens on WhatsApp Web. This means you can easily create, update, and manage HubSpot tickets directly from your WhatsApp interface, making it easier for your support team to track and resolve customer issues quickly and efficiently.
By using HubSpot tickets, you can easily organize and prioritize customer queries, ensuring that no issue goes unresolved. Additionally, with all customer communication centralized in HubSpot, you can quickly identify trends and common issues, allowing you to proactively address customer needs and improve overall customer satisfaction.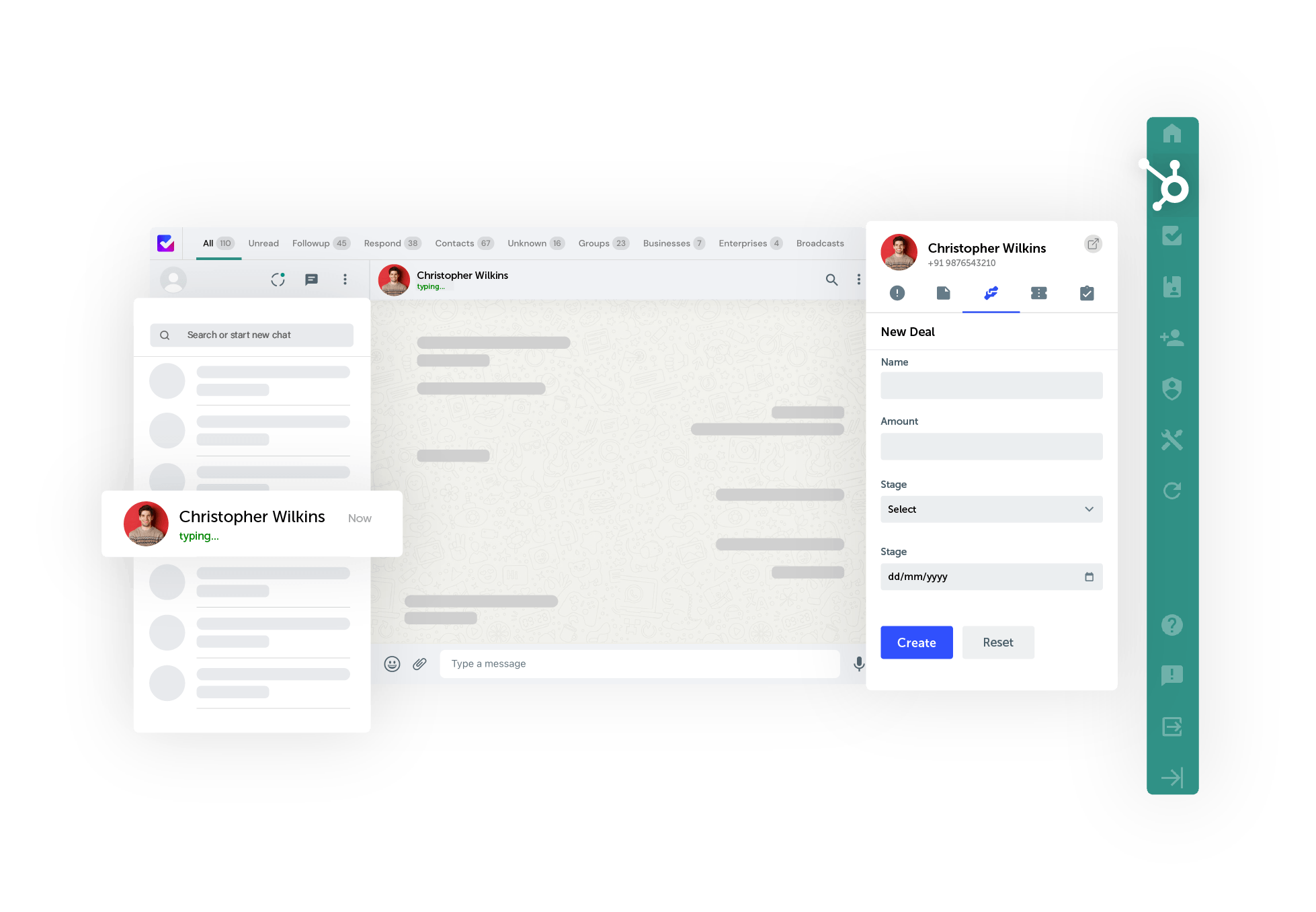 By integrating Vepaar's solution with your WhatsApp account and HubSpot CRM, you can easily manage your sales process by tracking pipeline stages from WhatsApp Web through HubSpot Deals. This integration allows you to create, update, and manage deals directly from the WhatsApp interface, making it easier for your sales team to track and close deals quickly and efficiently.
HubSpot Deals can easily monitor your pipeline, track potential revenue, and identify which deals are most likely to close. You can set reminders for follow-ups, assign deals to specific team members, and track deal activity and progress in real-time. This integration helps you keep all of your sales data organized in one place.
Vepaar's HubSpot-WhatsApp integration streamlines sales and improves the customer experience. Manage communication, leads, deals, and support in one platform. Increase productivity and save time. Choose Vepaar for a powerful and reliable solution.