Vepaar Vs Cooby
Over the years, the rise of online stores & other businesses has increased the demand for online marketing automation. 
There are several top-rated tools to boost your business, but not all of them make your life easier. However,  there are 2.87 million apps available on Google Play and 1.96 million apps available on the App Store.
We decided to compare Vepaar Vs Cooby – see which one is best for growing your business by checking out our comparison.
Let's get started!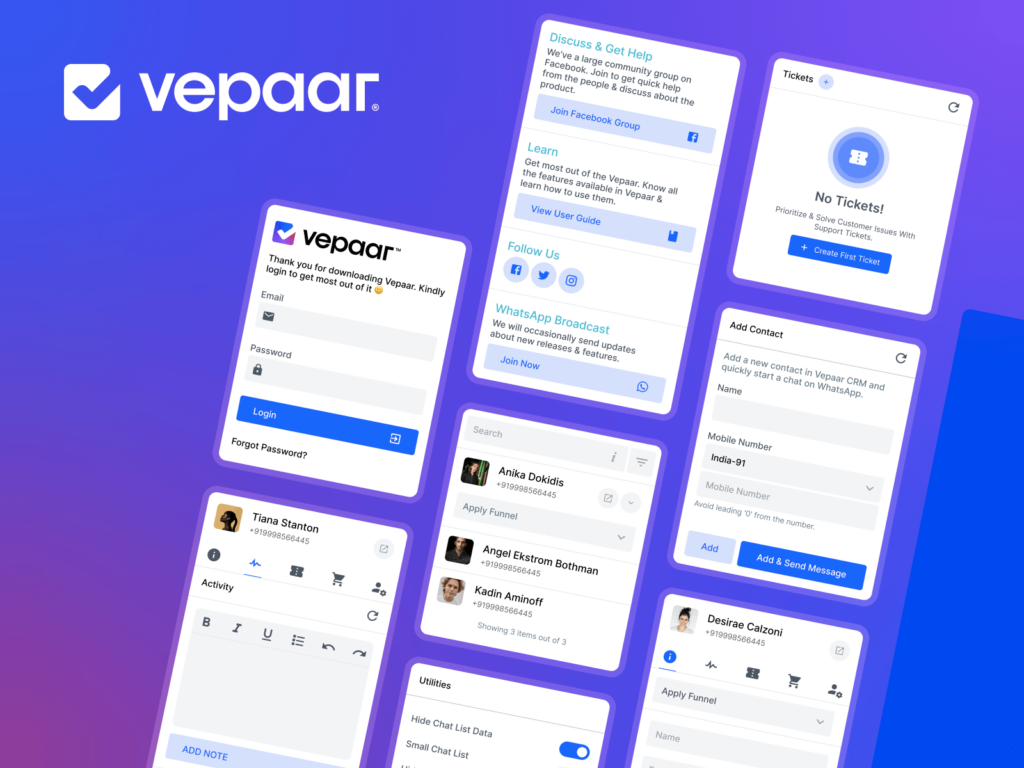 Vepaar is an easy-to-use, all-in-one tool that helps you manage your online business.
When it comes to managing your business, Vepaar provides the tools you need. Whether you're using WhatsApp or not, Vepaar helps you keep in touch with customers while keeping the technical details to yourself.
Vepaar helps you manage your business using WhatsApp CRM. Using its extensive features, you can create customer profiles, send personalized replies, save messages, and even create an entire business page on WhatsApp.
Vepaar offers elite sales-related features that make it easy for you to start selling. Enjoy multiple payment options, manage your inventory, and allow your customers to configure checkouts with ease.
Vepaar also allows you to create a WhatsApp link that your customers can use to message you on WhatsApp.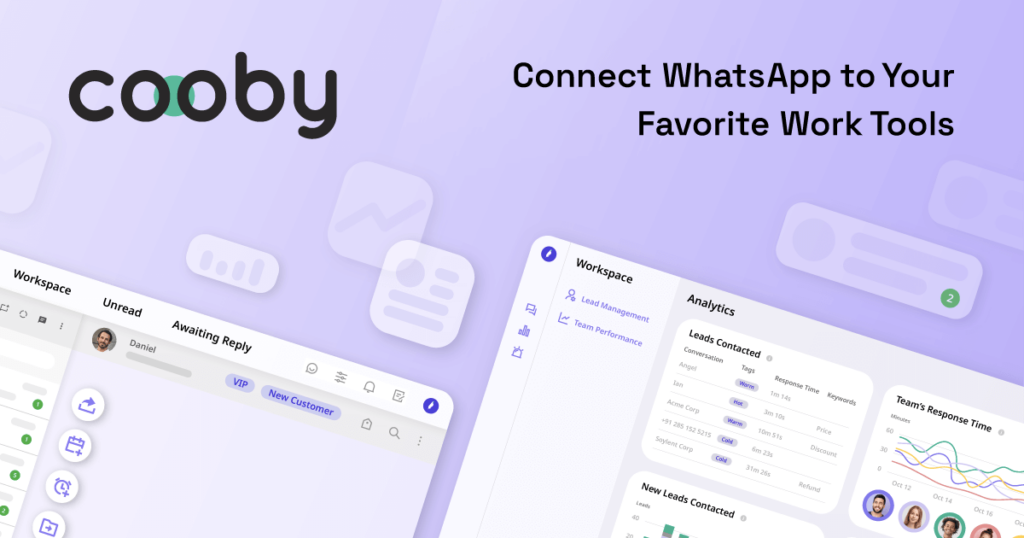 Cooby is a communication workflow platform that allows companies to interact with their customers. It's human-centered and designed to give your team the time back they need to focus on what matters most.
Cooby empowers working individuals to build strong long-term relationships with their customers by freeing up time for salespeople to do more meaningful tasks.
Cooby extension enables you to set up workflows within WhatsApp, saving you time and reducing the amount of administrative work involved. When you integrate Cooby with your existing CRM, you save time and reduce administrative work.
With the Cooby extension, you can organize your WhatsApp inbox into tabs based on your needs. You can set reminders to follow up with people, take down notes right where the conversation happens, and share a chunk or an entire conversation with whomever you wish. You can even schedule events!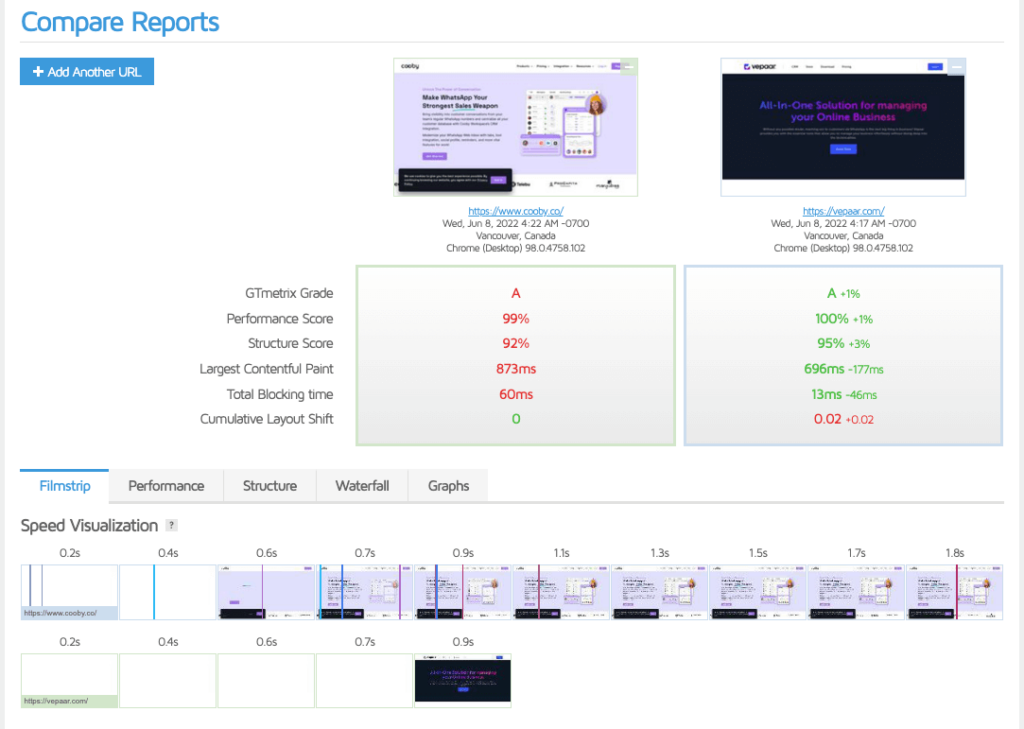 After testing and analyzing Vepaar and Cooby, we found that the speed of Cooby is prolonged. It takes 0.9 seconds to load a page on Vepaar, while Cooby takes some more seconds.
The load time of a website is a significant factor to consider while choosing an online marketplace. If you want to attract customers, you need to have a faster site speed than your competitors.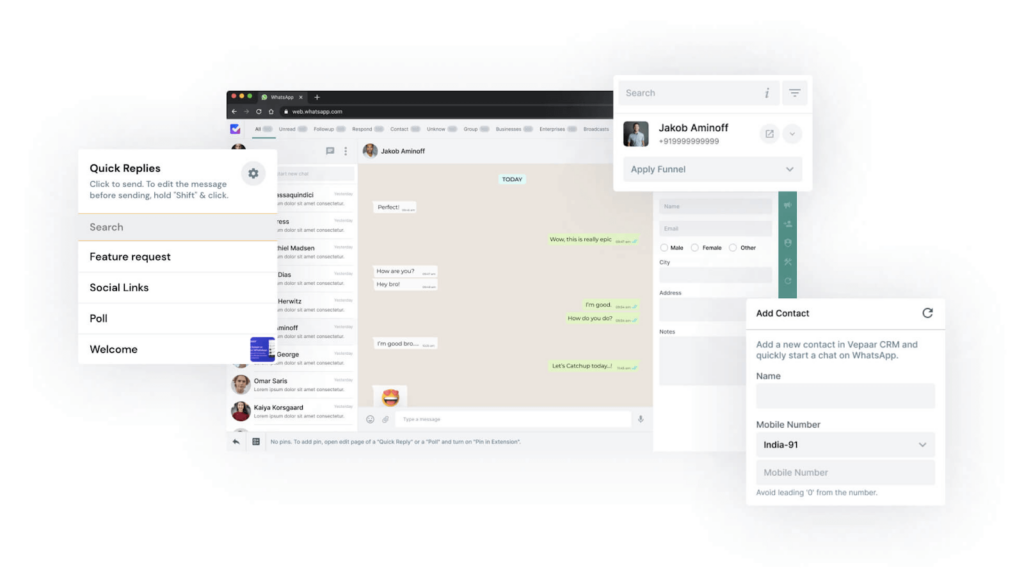 The first thing to consider when choosing an online business platform is the user interface. The theme and layout of the software will make a difference to your customers and how they use it easily.
Vepaar has a clean, modern, intuitive design that appeals to most users. It is responsive, meaning it adapts to the device viewing. It is also essential to ensure your site looks good on any device, a desktop computer, mobile phone, or tablet. It also has many great features such as user store views, quick replies, eCommerce store, etc.
Cooby has a similar clean design but is not as intuitive as Vepaar's interface. The layout of Cooby's is more fundamental than Vepaar's and does not have many additional features as Vepaar does.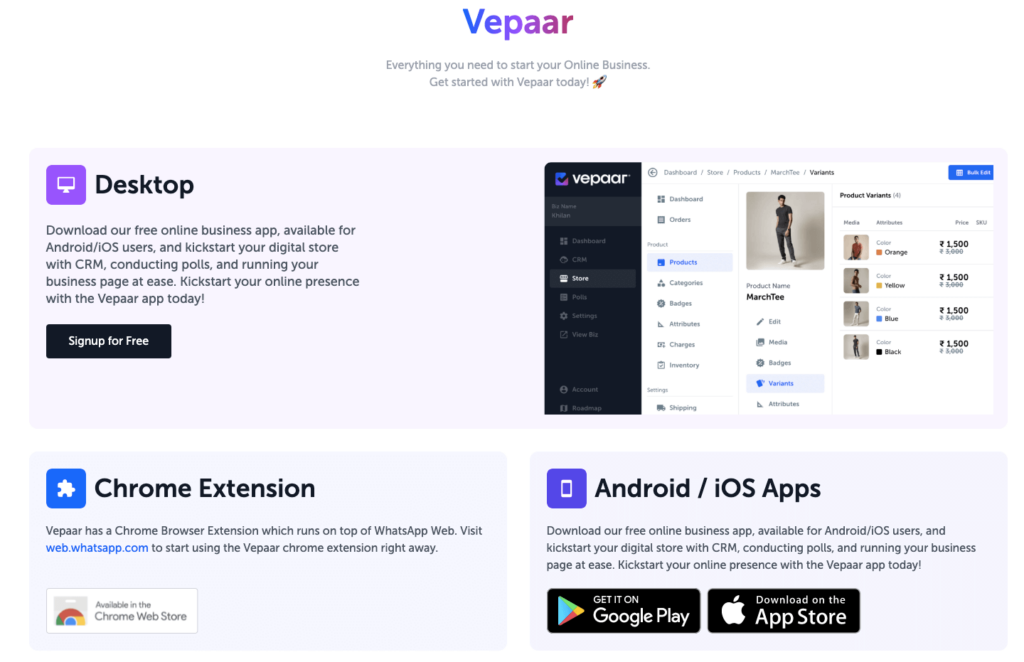 Vepaar is available on Google Play Store and Apple App Store. The app can be downloaded and installed on Android smartphones and Android and iOS devices. As of now, Vepaar has thousands of downloads. 
Vepaar CRM on Whatsapp makes work easy and fast. Vepaar is using official WhatsApp APIs to provide seamless functionality so you can use your favorite messaging app even more. Moreover, Vepaar won't access your messages or content while keeping WhatsApp secure.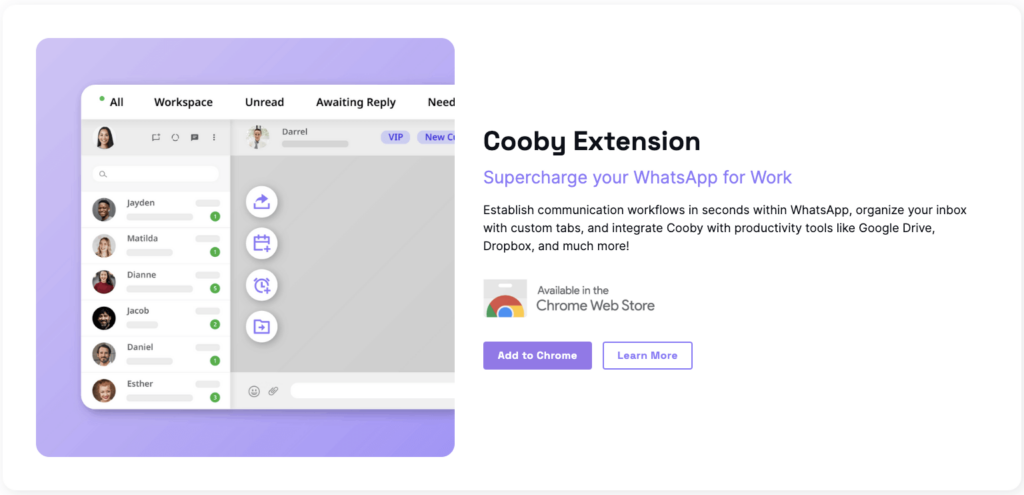 Cooby is not available on Google Play Store and Apple App Store It only provides a chrome extension for WhatsApp Web.
Both apps are available for download from their respective Chrome Web Store & Vepaar is also available on App Store.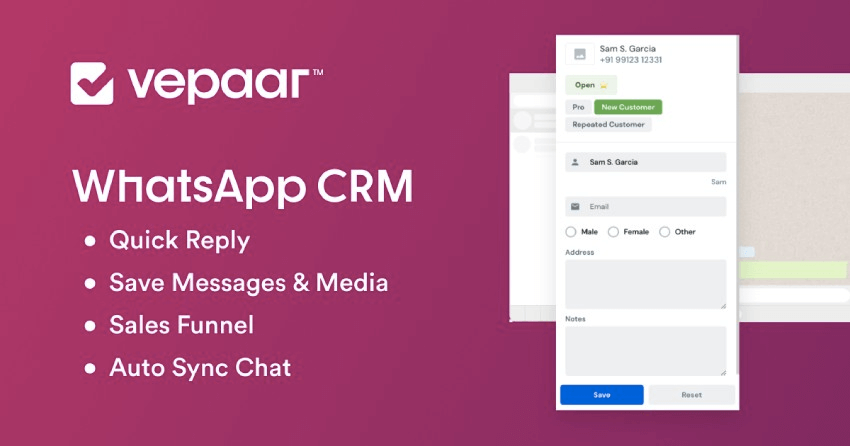 Vepaar CRM for WhatsApp offers a complete suite of tools for online businesses to manage their customer relationships. The platform includes: 
Quick replies
Tags to user/media/messages
Save WhatsApp chats 
Save media files [image, video, audio] 
Export contacts of WhatsApp, groups, and broadcast lists to excel
User/customer profile with overview, conversations, and media 
Send a message to a number without saving on mobile 
Sales funnel 
Auto-sync chat
Personalized quick replies
Ecommerce store
Create your business page
Polls 
Powerful cloud-based admin panel
In addition to these features, Vepaar also offers an open API that allows developers to build additional integrations with third-party software platforms.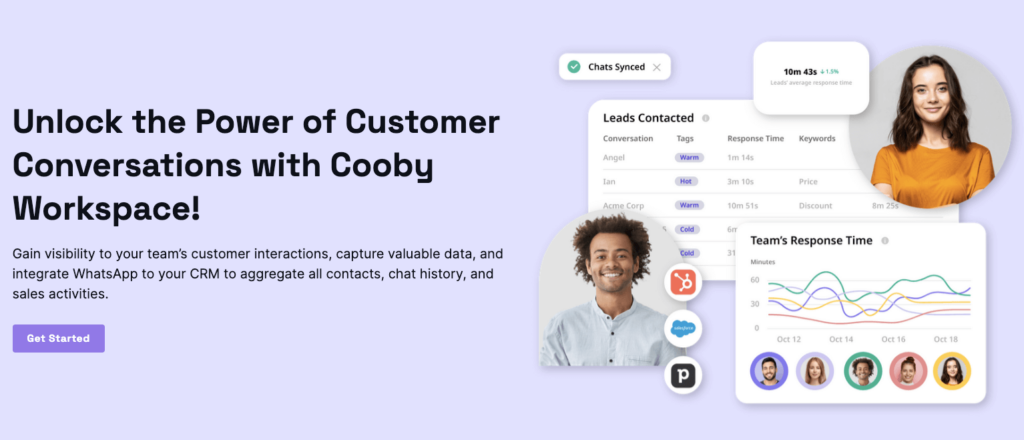 Cooby is a simple and powerful chat tab manager for WhatsApp. There are helpful default system tabs that make it easier to stay on top of your work, like Unread, Needs Reply, Awaiting Reply, Groups, and an Official Accounts tab.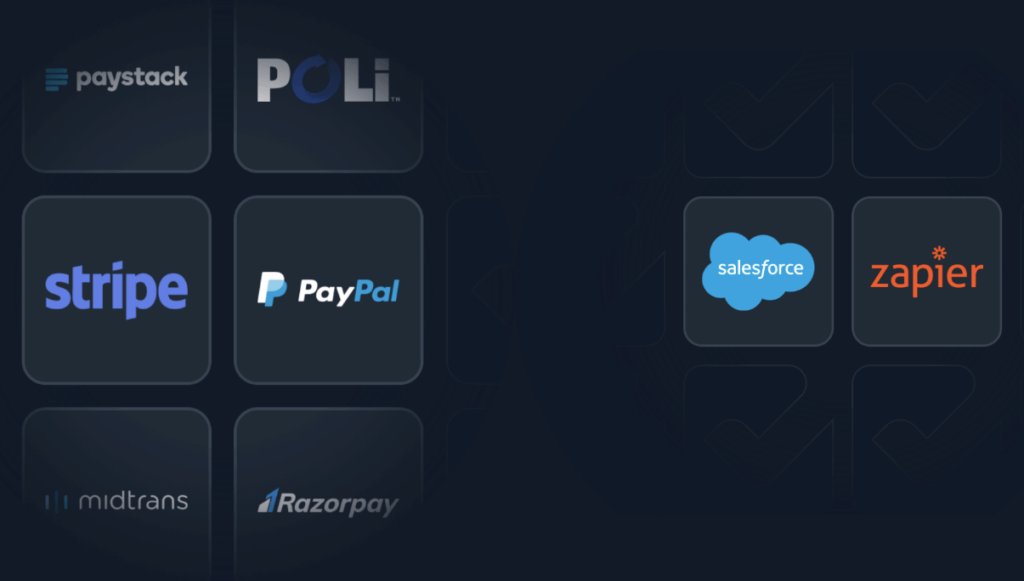 Vepaar supports multiple payment integrations. Vepaar has some features that Cooby does not have. However, Vepaar offers nine payment modes, including Stripe, PayPal, Flutterwave, RazorPay, Paytm, Poli, Midtrans, and Pay on delivery. Vepaar also provides Salesforce, Zapire & much more integrations.  
Vepaar and Cooby have similar offerings and target the same market, but their pricing strategies are very different.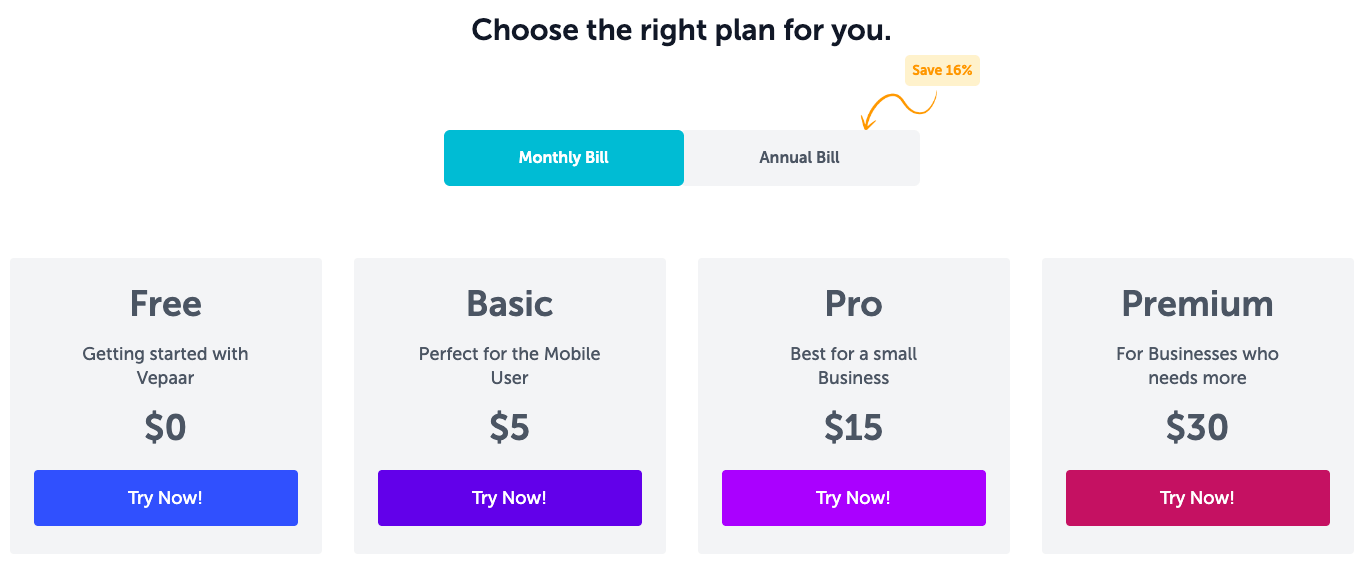 Vepaar offers four different pricing models as below:
Free plan – Starts at $0 per month with some essential features.
Basic plan – Starts at $5 per month, and it's perfect for mobile users.
Pro plan – Starts at $15 per month, and it's best for small business owners.
Premium – Starts at $30 per month, and it's best for businesses with more needs.
Vepaar is a good choice because it lets them avoid having to price the software differently for different types of customers. It also encourages users to continue using their service by making it more affordable than buying a license outright. Moreover, you can upgrade, downgrade or cancel the plan at any time.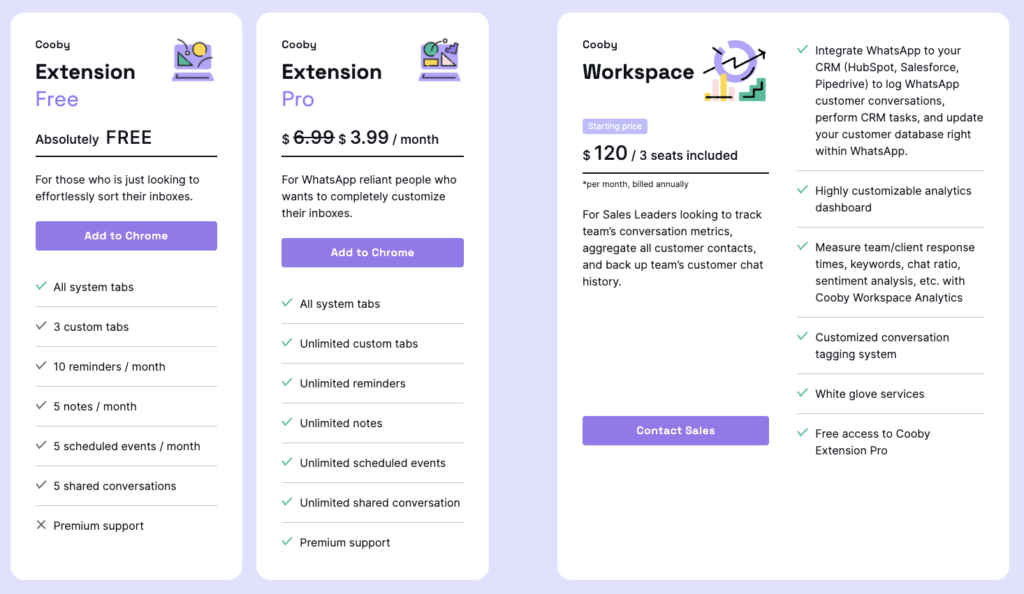 Cooby offers two different versions of its extension: Free ($0), and Pro ($3.99/month). It is an excellent strategy because it allows Cooby to appeal to all kinds of customers, from those who are just getting started to those who need enterprise-level features.
So, both Vepaar and Cooby are great for the free online business app; it all depends on what you're looking for. If you want to keep things simple, go with Cooby or a similar budget option. 
But if you're looking for something that can do a little more, Vepaar is a solid choice that might make your life easier. It's a worthy investment if you can afford it, especially considering how much time it will save you in the long run.