Vepaar enables you to integrate WhatsApp with your HubSpot
Power up your sales & support teams
Connecting WhatsApp
And HubSpot CRM
Vepaar helps your teams win by WhatsApp + HubSpot integration. It enables you to save customer conversations, sync all contact details, and perform HubSpot tasks within WhatsApp.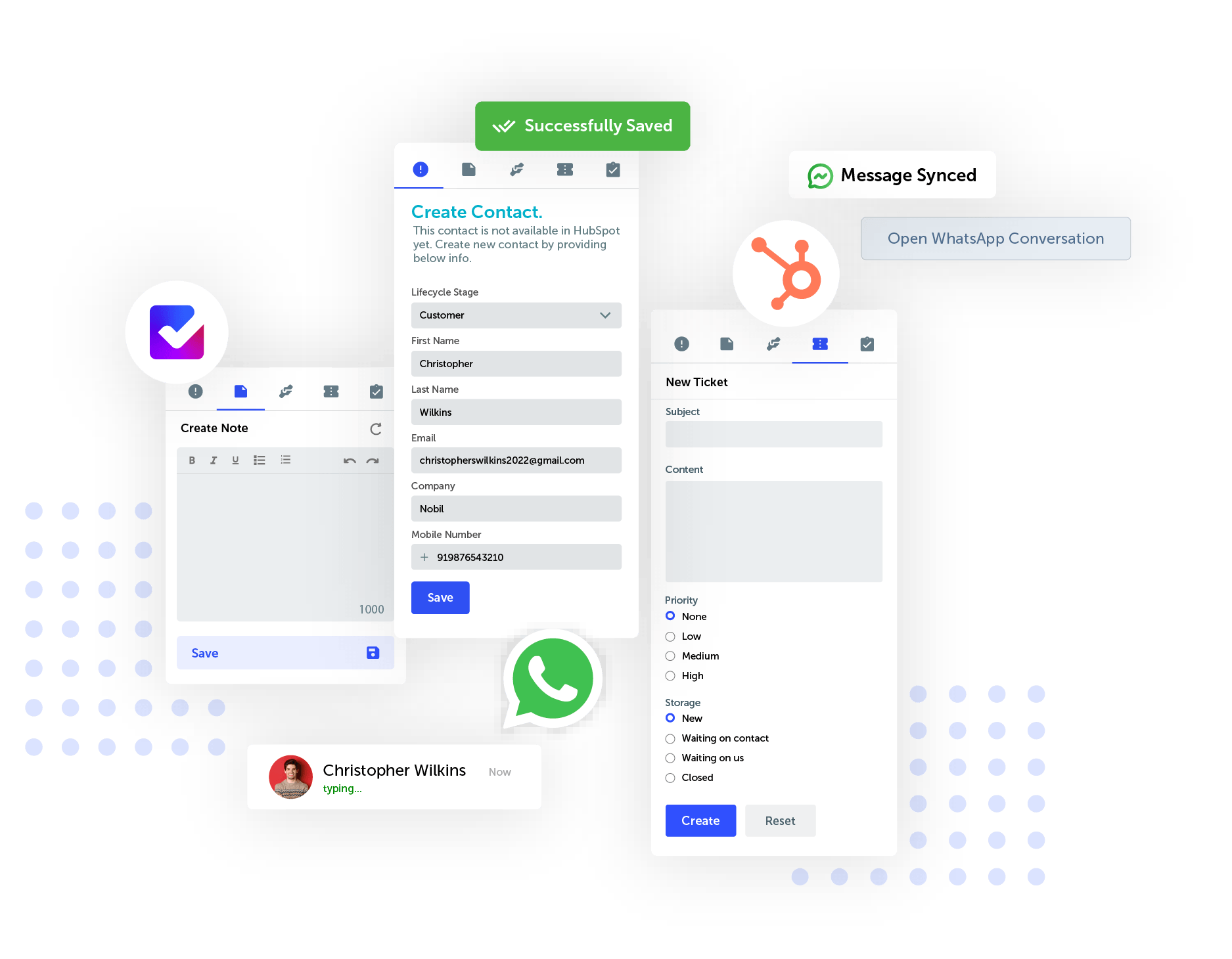 Trusted by top business worldwide

The Perfect Blend of Two Things You Love
Want to see the WhatsApp + HubSpot integration? Then watch the demo now.
Create and Update Contacts in HubSpot
Make Sure Your Customer Database is Always Up to Date
HubSpot contacts can be created and updated right within WhatsApp, making sure you don't lose contacts and opportunities.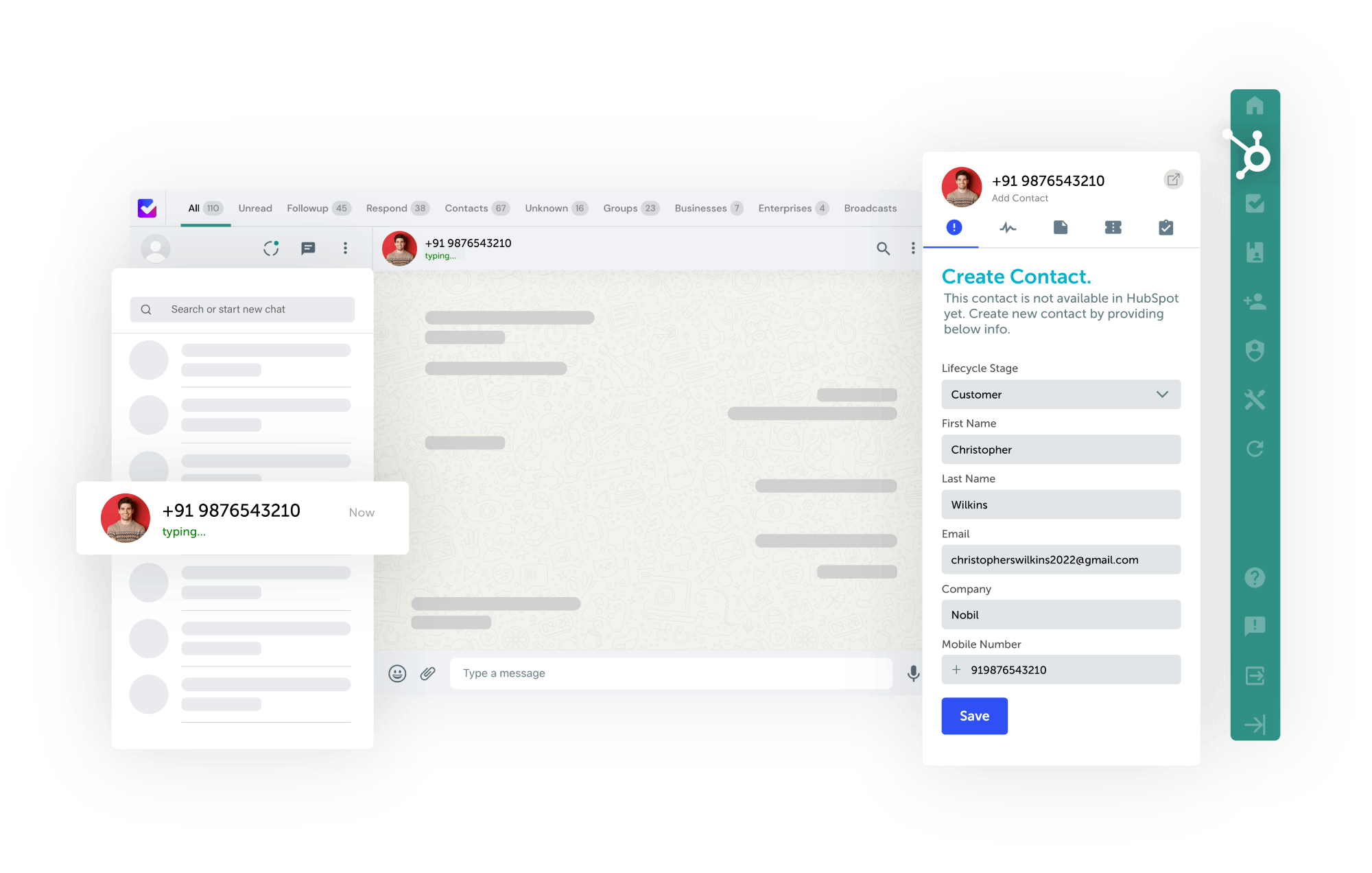 Sync your WhatsApp Messages to HubSpot
Save Customer's All WhatsApp Messages to Your HubSpot
Automatically sync your customer's WhatsApp conversations in your HubSpot database for future reference.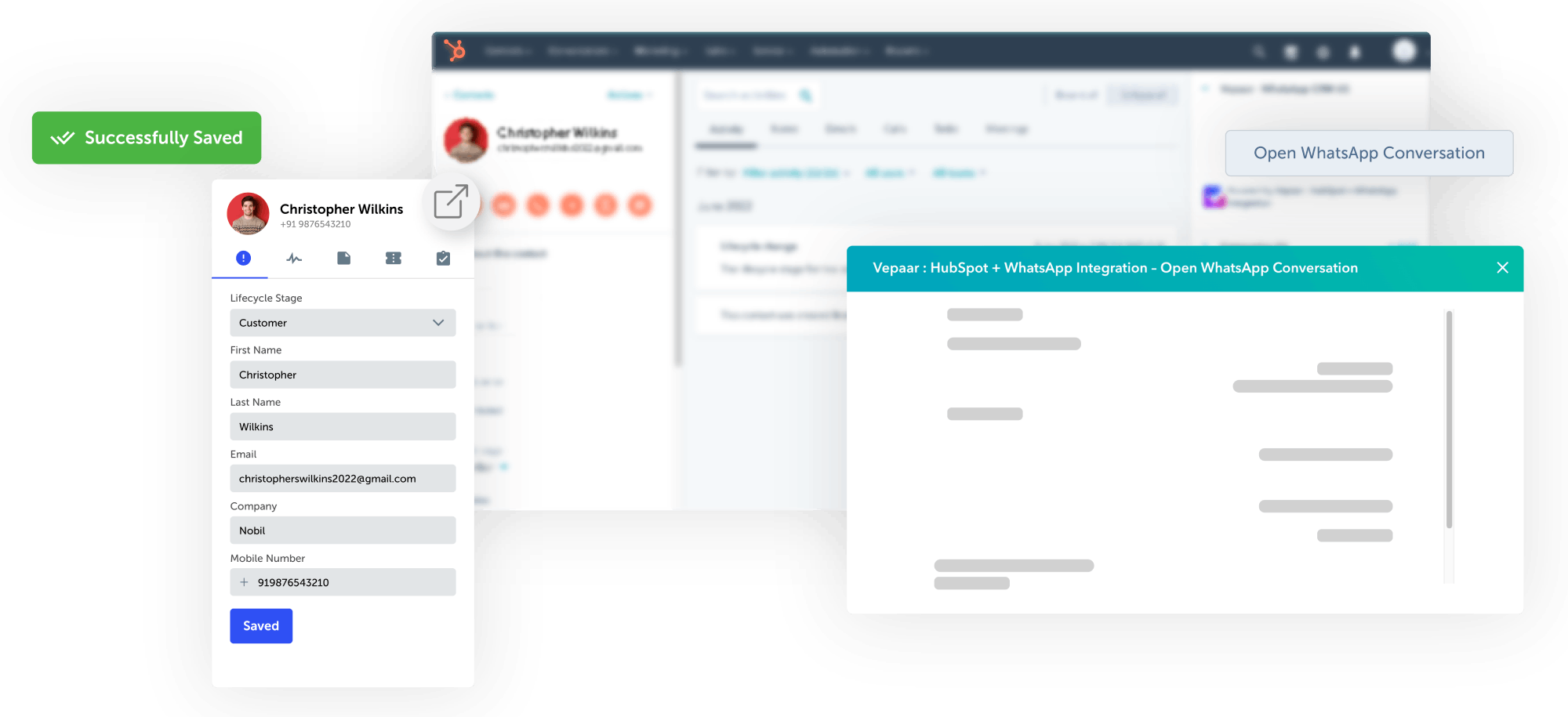 Create and Manage Tickets in HubSpot
Track Customers' Issues by HubSpot Tickets
Manage customer quires into your CRM by tracking HubSpot tickets right where the conversation happens on WhatsApp Web.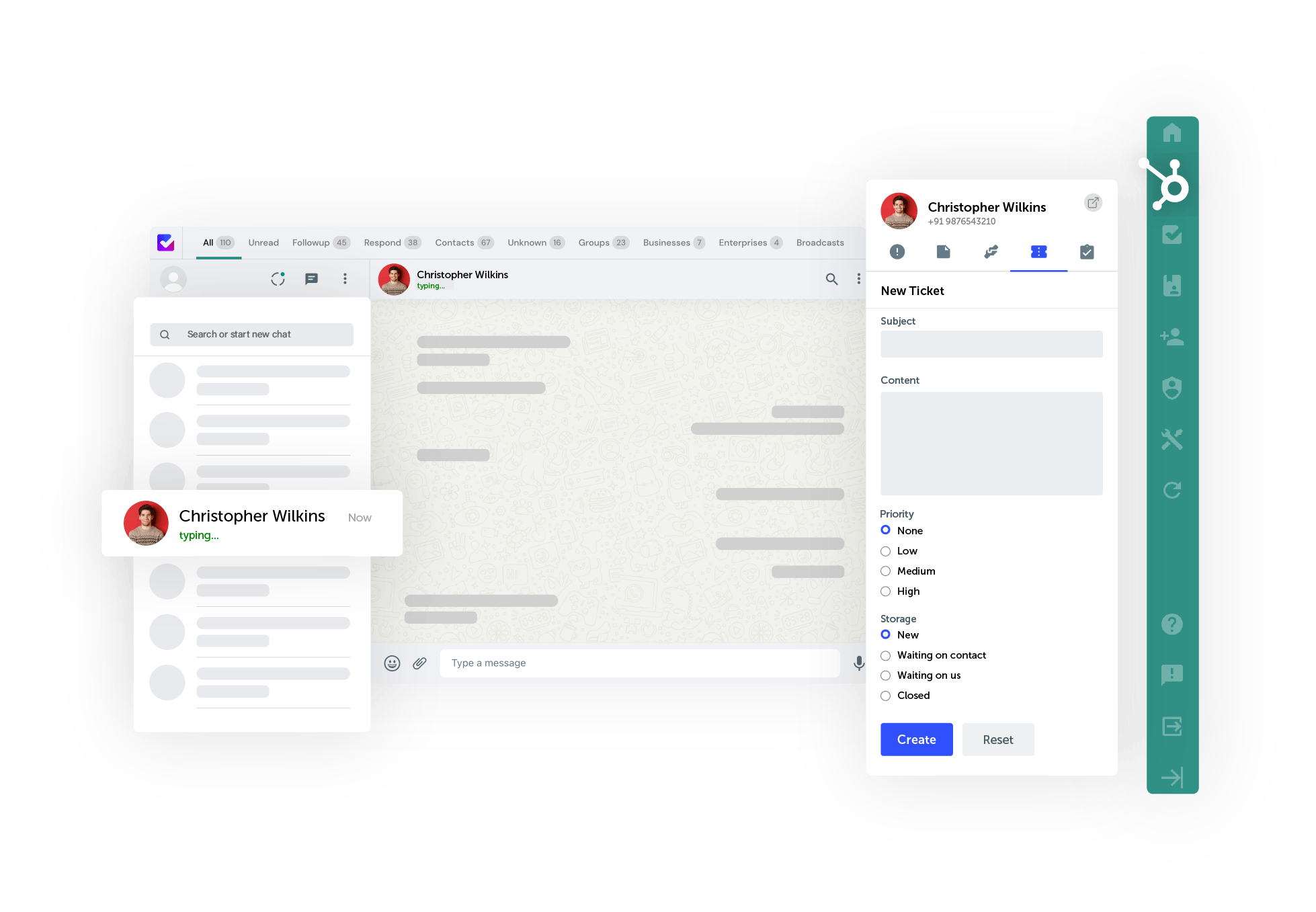 Create and Manage Deals in HubSpot
Manage Potential Revenue by Sales Process of Deals.
Track pipeline stages until won or lost by HubSpot Deals from WhatsApp Web.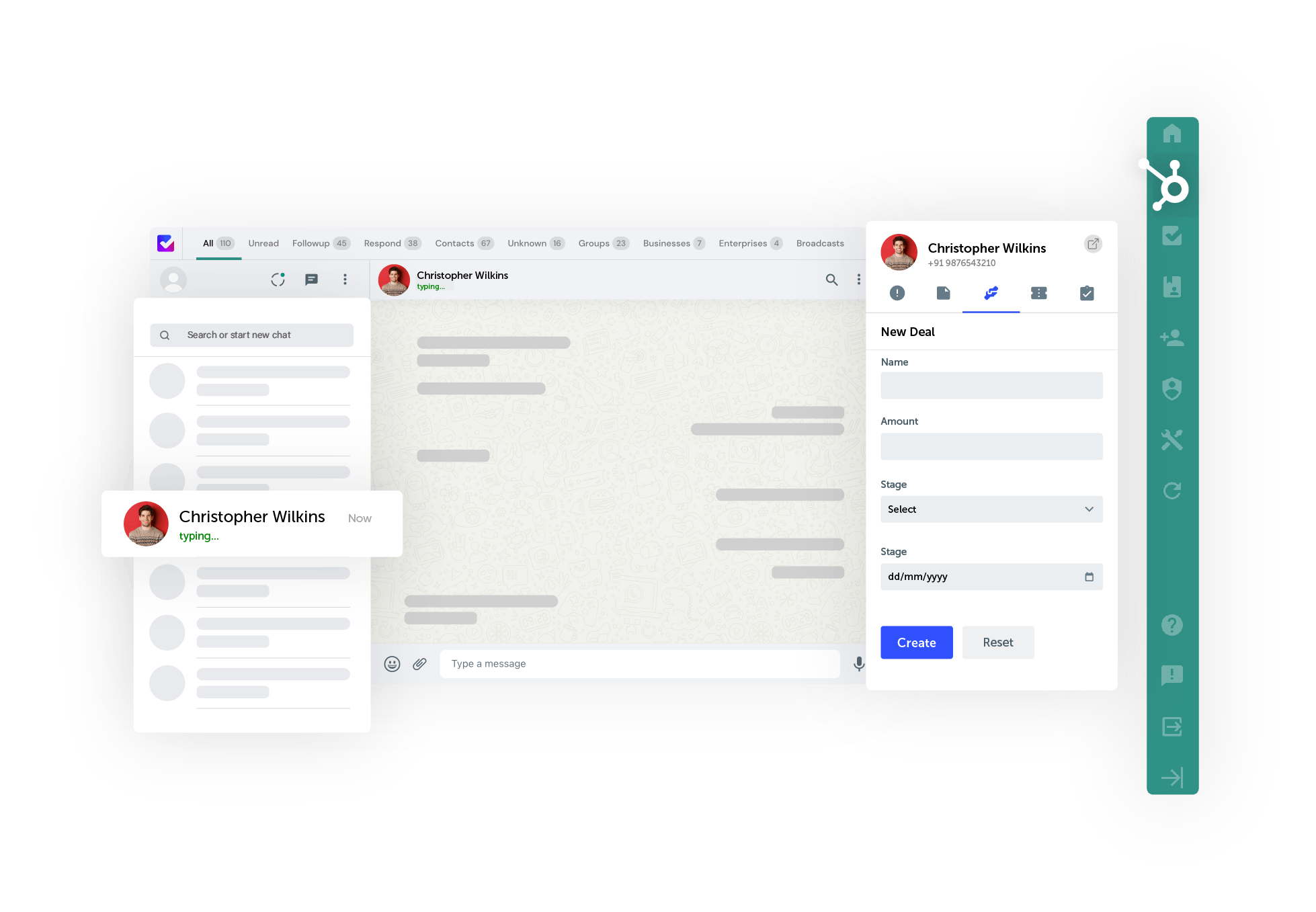 10X
Improvement in Productivity
Our Customers,
Our Triumph.
At Vepaar, our most incredible wealth is our customers. Here's what they have to say about us.
I started a small cosmetic business 1 year ago. At first I only have few supportive friends as my customers. Eventually, my business started growing. More customers are sending me inquiries and it took a lot of time and effort to respond regarding list of products, prices and product details. That lead me searching what best solution I can do until I found Vepaar as the answer. They offer Free subscription for online business and is a great start to list down products and prices. Later I decided to upgrade my subscription to enjoy more features that I need. The money that I pay for subscriprion is worth it. Plus customer service team is very responsive especially in whatsapp.
I am so glad to have found Vepaar -- an integrated all-in-one solution for all my e-commerce needs. Now, not only can I start my online business confidently, I know that it will skyrocket it to greater heights.Vepaar comes with a comprehensive set of features that all modern businesses must have -- including WhatsApp CRM, Online Store, WhatsApp Polls, WhatsApp Link generator and Biz Page.I am ALL-IN with Vepaar, and I hope you will too, after you discover what it can do.
I have gained a great number of customers for the past 5 months and all this is thanks to #Vepaar. I call on you guys to download the app and get a great online store
Vepaar has a very good WhatsApp CRM system where by using their Google Chrome extension we can sync the WhatsApp contacts to our database. The implementation is very simple and newbie-friendly.
We are small business which does not require big ecommerce site but just a tool to manage our whatsapp and at the same time to offer more options for our customers. Vepaar has helped us in great way. now we can message our customers as well as sell our products easily with our preferred payment gateways. I don't have to worry for speed of web app, avaibility of our online store as everything is managed by Vepaar and now I can fully focus on our business aspect.
Well, I like their Support System and Vepaar has all the tools I needed to set up a profitable eCommerce business without having myself becoming an expert. It's easy to get going and use, with no fluff or useless features. The emphasis is on getting my business up and running as fast as possible so I started making profits.
Vepaar is the best chrome based extension also great CRM software that you can use it for your Whatsapp web. There are many great functions such as saving messages automatically you can build customer profiles, create sales funnels, backup all your contacts and many more... Here is a tip : you can have your online store and customised URL try at least once you won't regret
What I was looking for I found in Vepaar as it not only manages my generic responses with quick replies, it is a light CRM that stores my contacts, notes about my contacts, funnel builder, polls for engagement and an e commerce shop that sits right on my whatsapp. In other words, the perfect tool I have been looking for
Trusted by Thousands of reputed Companies Worldwide
Integrate WhatsApp to your HubSpot now!
Contact our experts anytime, they would be happy to hear more about your business and tell more about Vepaar. Just Sign up and book a demo with our team.